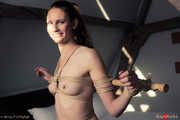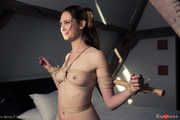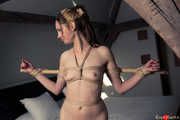 Anal predicament
Together with Spring we have a beautiful loft with wooden beams at our disposal and I plan to make some real good use of it!
For starters I tie Spring, spread-arms, to a bamboo pole.
Then there is a beautiful beam of sun light entering the loft and Spring is right in the center of it. It seems she is more interested in the beam of light than our interaction. That asks for some correction, me thinks, right?
I go ahead and attach her to the wooden beam in the loft and prepare an anal-hook and leave it dangling from the beam for a bit. This got Springs attention!
Next... we insert the anal-hook (after some proper lubrication), attach it to the beam... and pull! This is giving me the attention and focus that I'm looking. Spring is standing beautiful on her toes, her curves showing.
Now I want her to feel the anal-hook, I want to see a struggle, on her toes. To achieve this I tell her I will start a severe whipping, this is giving me more looks that please me a lot. The whipping starts... but it's very, very mild, but Spring is expecting it to be severe and is trying to avoid the rope-whip. That will teach her! I don't know what, but it's a pretty view.
At one point she knows the whipping will not be that heavy and starts to tease. I respond, the RopeMarks way. I tie her hair, pull her head back and attach the rope to the anal-hook. She moves her head, she pulls the anal-hook.
Now, I know that when her head is pulled back she has a hard to swallowing. And there is another pretty struggle, the struggle for air. She can't swallow, the naturally produced saliva has no way to go. To keep breathing Spring has to let it out of her mouth.
Tied in an open way, hooked and drooling all over the place. Another mind set into surrender. Don't thank me, come and watch! :)

Photos by KinkyStyle
Show more