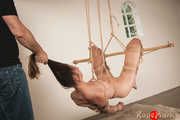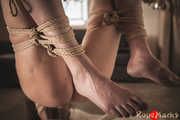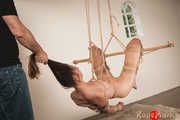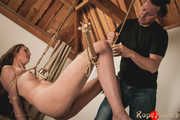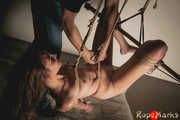 Bamboo Spread, part 2 of 3
Spring's account of today:
"It's spring! So we went out to our cottage at the country side and I went ... up the ceiling!
Of course on beforehand I had no clue what was going to happen, but we were very relaxed and in a good mood so I was looking forward to a little adventure. Not before soon we left the grey city behind us and beautiful fresh nature was welcoming us.
Just as we reached the cottage, the last clouds disappeared. Sunshine! To be honest, I can't wait till it's summer, to feel the wind and the grass on my skin. For now though, we went inside and made it warm and cosy. I undressed and made myself comfortable on the soft blanket. Nice. For a few seconds. Then Bob immediately took my comfort away by tying my arms behind my back. Tight! Luckily I love this kind of restraint and I was curious what was coming next. Why o why did he bring the bamboo?
To tie behind my knees it turned out. This was new to me, but I immediately felt what was going to happen and yes... He folded my legs around the bamboo. The only movements I could make now, were to keep my balance. Was this an ancient torture method? Where we going in that direction?
Hmmm no, he was teasing me and he made me go up in the air. First horizontally. I felt the ropes sharp in my hips. The feeling dissolved slowly and there I was, melting and floating in the air.
Then another quick movement. Woosh! I giggled when he pulled my upside down. It was a relief the hang like that. I didn't get much time to enjoy this though. Bob made me swing by pulling me backward from my nipples. I screamed. And I screamed again when he pulled the rope between my legs. It's sensitive there you know! Now it was his turn to laugh. He was playing with me and every time I screamed, he immediately made me thank him, which I happily did.
It was a beautiful day, a lot of rope and a bit of torture. All the things I love so much."

photo's by FetLight https://fetlife.com/users/859862
kinbaku by RopeMarks http://www.RopeMarks.com
Show more