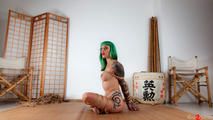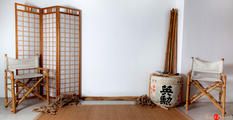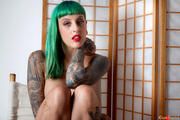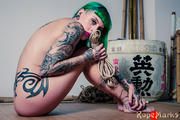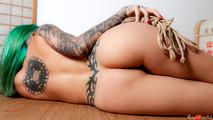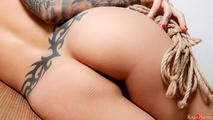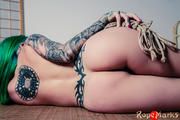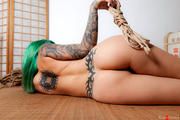 Bliss, in suspension - part 1/3
We have a real treat for you, an Australian treat. We got a visit from Bliss Theadora a green haired sweetheart and beauty and we're going to use her for our pleasure...
The arms of her flawless body covered with stunning inkt are quickly tied behind her back and her legs are tied ankle to upper-leg ending in a beautiful agura for a beautiful Bliss.

After enjoying the view we move forward to a low, sideways suspension wiht Bliss still in the agura position. Some lovely sounds are coming from her when she is freely swinging in the air.
We do like to see our girls suffer a bit and wrap a new rope several times around the neck of Bliss and tighten it behind her, chocking her just enough to make her lovely sounds a little louder and little less further apart. We leave her slowly swinging, suffering, struggling for air and do nothing but sit back and ejoy ourselves.
At one point we take her down... and then decide otherwise and bring her back up again.. a little and a gag.
In this new pose Bliss has more space to move and not entirely unexpected there are some f*ck*ng movements against her suspension ropes... and a wet spot underneath her...

This is an update in 3 parts, two photo sets and one long video.
Show more