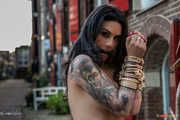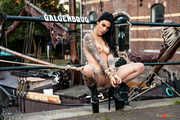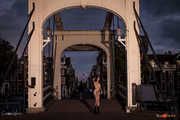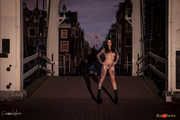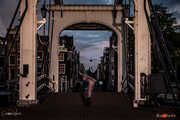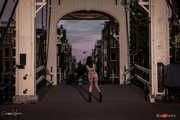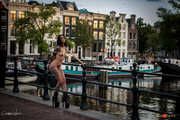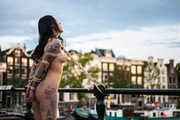 In Amsterdam
Early morning, sunrise, Amsterdam; a rigger not yet awake, a stunning Spanish beauty and an awesome photographer... and so starts the adventure.
First we arrive at one of Amsterdam's most beautiful spots to watch the sunrise, the skinny bridge across the Amstel. We tie the arms of beautiful Nereida on her back and position her on the bridge. Even early mornings Amsterdam is a busy place and we have quite a few pedestrians and cyclist passing by. When Nereida tries to hide from them we have no other option then to tie her to the bridge for the final set of images.
We have another, very authentic Amsterdam place in mind - we throw everything, including our Spanish beauty in the car and drive to Prinseneiland. Being a quit little island where nobody is awake yet we position Nereida, naked, in front of a beautiful authentic warehouse - then tie and gag her. She's taking it a like a trooper.
When finally someone in the building wakes up and spots us we move to a different spot - the galgenbrug (gallowsbridge), a name that refers to the view of the gallows of the Volewijck from here. Feeling nostalgic we try to honor the name, we squat Nereida, tie her legs spread and unable to stand up "hang" her from the bridge railing by the neck.

This set has images of Amsterdam as you have not seen it before - this could be become the next big tourist attraction.